Edmonds Veterinary Hospital

Veterinarians & Staff
Veterinarians
Dr. Robyn Fry (Owner)
Dr. Robyn Fry started working at Edmonds Veterinary Hospital in June 2015 before she purchased the practice in July 2015 when Dr. Larry Remick retired. Robyn was raised in Sultan, Wa and is a graduate of WSU, class of 2006. She has spent several years practicing Veterinary medicine in the Central/Sodo Seattle area before becoming a practice owner. Outside of the clinic, she loves spending time in the Pacific Northwest quad/inline skating, hiking and camping. She is a dedicated Seahawks fan and she has a passion for gardening; often filling the hospital with a variety of fresh roses from her home garden in the summer. Her household consists of domestic shorthairs "Pickles", "Sherman", and "Javelin".
Support Staff
Stephanie

Lead Veterinary Assistant
Stephanie joined EVH in 2016 after graduating from PIMA Medical Institute with a veterinary assistant certification in 2015. She is currently pursuing a degree in veterinary practice management. She has 2 small rescue dogs, "Milli" and "Missy", and 3 cats, "Fatty", "Kitty", and "Bubba". Stephanie enjoys building a strong bond with patients and clients alike and has a passion for providing excellent patient care and treating each pet like she would want her own to be treated. In her free time outside of work, Steph enjoys simply relaxing at home and binge-watching episodes of her favorite shows.
Gaby

Veterinary Assistant
Gaby joined the EVH team as an assistant in May 2022. She is currently participating in the Penn Foster online educational program studying to become a veterinary technician! At home she has a rescue kitty named "Melody" and 2 guinea pigs, "Apricot" and "Cherry". Outside of work, she enjoys playing videos games and studying Ancient Greek in her free time. Gaby is dedicated to client/pet parent education and the importance of clients understanding their pet's care. She says that her favorite part of working in vet med is the excitement of learning something new every single day!
Hayley

Veterinary Assistant
Hayley graduated from PIMA Medical Institute in 2008 with a certificate in Veterinary Assisting. She joined EVH in 2018. She has two daughters, Lily & Zoey, and two shelter rescue cats, Rocky & Pebbles. Hayley is an Edmonds local that enjoys assisting with kitten visits (of course) and performing dental cleanings, as well as educating clients on the importance of dental care in cats and dogs!
Sadie

Veterinary Assistant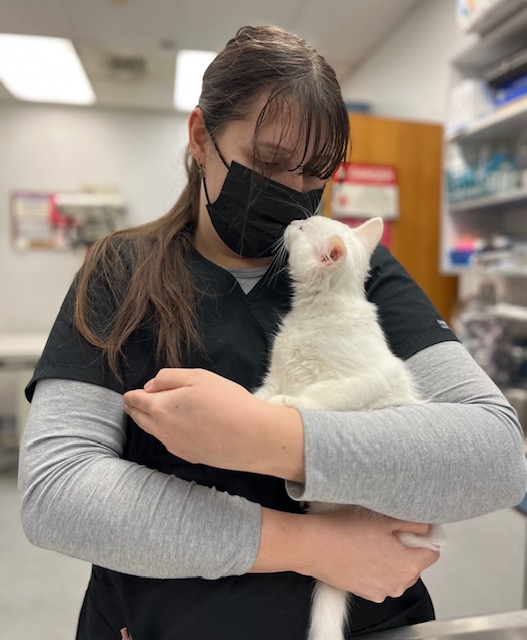 Sadie joined EVH in June 2022 after graduating from Mountlake Terrace High School where she participated in the schools' Sno-Isle program for veterinary assisting. Sadie has a senior-aged yellow lab named Lex that has been her family dog since he was a pup. In her free time outside of work, Sadie enjoys playing volleyball with her friends, baking "the best chocolate chip cookies ever", and spending laid back time with her family. So far, her favorite thing about vet med is getting to meet everyone's best friend and learn the variety of every pets' individual personality. Being so new in the Veterinary field, Sadie is very interested in exploring the different areas of vet med and finding a few topics to specialize in, such as anesthesia and diabetes management.
Tara

Client Services Representative
Tara joined EVH in September 2022 and has worked in numerous veterinary clinics from private practice, spay/neuter, and homeless outreach. Tara lived in California and Oregon before settling in the Edmonds area. Outside of work she enjoys exploring Washington and spending time with her family. Right now Tara has no pets in her home, just her young son. She loves seeing the puppies and kittens come into the clinic and watching them grow!
Haley P.
Haley joined our team in November 2022 with no previous experience and has since shown amazing passion and commitment to the field. She is currently enrolled in an online VT program and every day in the office she is striving to strengthen her skills and knowledge. Haley has two Siberian Huskies at home, "Gaia" and "Ziva", you may recognize them from the local dog parks and beaches they frequent! Haley enjoys connecting with animals and their humans and feels that client compassion is a specialty of hers. Her goal in life is to start her own rescue for dogs and cats and even horses and goats!